Catherine M. Cramer represents clients at all stages of litigation from case inception through trial. Ms. Cramer has obtained favorable verdicts on behalf of her clients at trial and arbitration on the issues of liability and damages.
Ms. Cramer was born in Harrisburg, Pennsylvania. She attended Fordham University and received her bachelor's degree, cum laude, in English and Communications in 2009. She studied law at Temple University Beasley School of Law where she obtained her J.D., cum laude, and a certificate in Trial Advocacy & Litigation in May 2013. While in law school, she served as a law clerk to the Honorable L. Philippe Restrepo, in the Eastern District of Pennsylvania, through the Federal Judicial Clerkship Honors Clinical program. Ms. Cramer also served a legal intern to the Honorable Anne E. Lazarus, in the Superior Court of Pennsylvania, and the Chester County District Attorney's Office. Ms. Cramer was the recipient of the Jean B. and Carole D. Green Scholarship for achievement in trial advocacy. She was a member of the Temple National Trial Team where she was a finalist at the Fordham Law School Kelly Competition in 2011, won the championship at the National Civil Rights Trial Tournament in 2012, and received the Best Advocate Award at the American Association of Justice Trial Tournament in 2013.  Ms. Cramer received the Barrister's Award for the best advocate in Trial Advocacy I, Trial Advocacy II and Advanced Trial Advocacy. Upon graduation, Ms. Cramer received the Jerome M. Staller "Excellence in Litigation Award" presented to the school's most promising civil litigator.
Ms. Cramer is admitted to the Bar of the State of Delaware, the State of New Jersey and the Commonwealth of Pennsylvania. She served as a volunteer coach for the high school mock trial team at Girard College from 2011-2017. She also acts as an adjunct professor at Temple University Beasley School of Law in the Advanced Trial Advocacy Program, coaching Temple Law School's National Trial Team. She was elected the co-chair of the Torts and Insurance Section of the Delaware State Bar Association in 2018, having served as the vice chair of the section in 2017.
Representative Matters 
Obtained defense verdict in a jury trial on the issue of liability, with the jury finding that a vehicle involved in an accident with a bicyclist was not negligent.
Obtained defense verdict in a jury trial on the issue of damages for two plaintiffs, with the jury finding that neither plaintiff sustained any injury as a result of the accident.
Obtained defense verdict on a no-fault coverage dispute, with the jury finding that none of the bills submitted by the Plaintiff at trial were reasonable, necessary or related to the accident.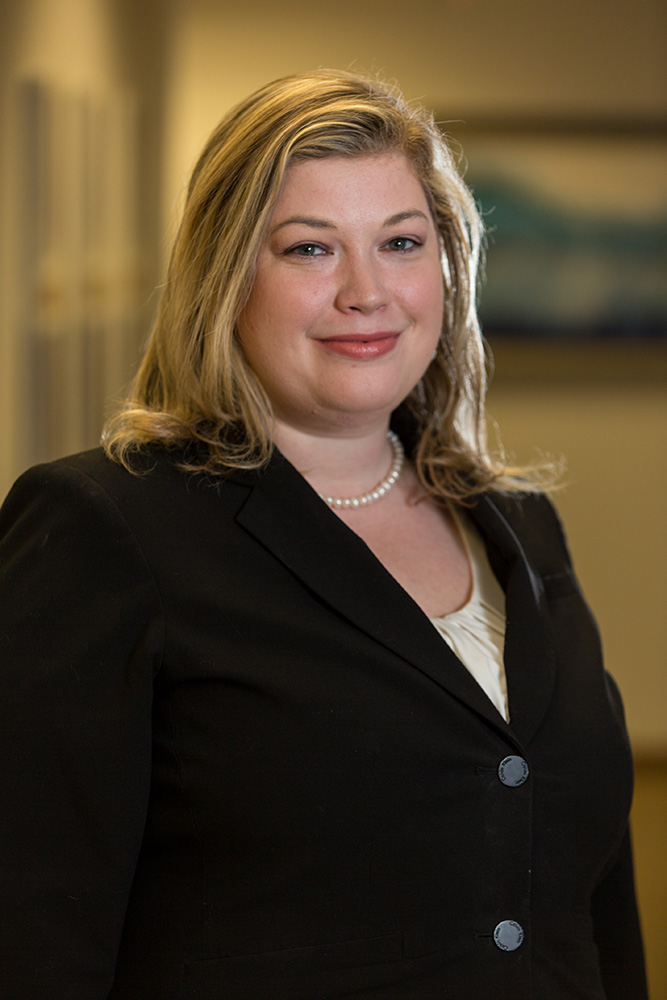 Associations &
Memberships:
Defense Counsel of Delaware
Delaware State Bar Association (Women and Law Section, Young Lawyers Section, Tort Section)
Pennsylvania Bar Association
Defense Research Institute
Areas of Practice:
Education:
Temple University Beasley School of Law , J.D., cum laude (2013)
Fordham University, B.A., cum laude (2009)
Bar Admissions:
Delaware
New Jersey
Pennsylvania